To survive Seattle's recent heatwave (and smoke infestation), I assume that most people would want to eat ice cream. Seattle has a ton of great ice cream shops (I've heard) but I'm lactose intolerant and have blocked such things from my knowledge. Instead, what could I eat that I love in hot weather? Cold noodles!! We went on a quest to find 5 Seattle cold noddle spots that could help beat the heat!
Cold Noodles 凉皮 @ Xi'an Noodles
The first stop on our cold noodle adventure was to get, well, the cold noodles at Xi'an Noodle. I had been to Xi'an Noodles a few times before, but always would order the Spicy Cumin Lamb Hand-Ripped Noodles or the Won-Ton in Chili Sauce (both of which are very delicious).
The style of this restaurant is that of the Shaanxi Province, a land-locked area roughly 800 miles west of Shanghai. What they are known for is a type of noodle called liangpi (凉皮), or "cold skin" due to its texture. These are flatter and a bit rougher texture than the other hand-ripped or hand-pulled noodles on the menu. They're served mixed with bean sprouts, cilantro, straight-up chunks of gluten, green onions, and a thin, vinegar sauce. It's a taste that unlike what most non-Chinese-Americans know as "Chinese" due to it's more of a tangy, sour flavor rather than sweet. There were four of us eating and we had to order two large servings of this, that's how good it was!
Xi'an Noodles, University District
5259 University Way NE, Seattle, WA 98115 (map)
Cold Rice Noodles 涼米皮 @ Country Dough
For our next bowl we headed to Country Dough in the Pike Place Market—you have to walk past the line of tourists at the original Starbucks and into the old Stewart Building to find this one! Country Dough focuses on food from the Szechuan province, with several options of street food favorites like flatbreads and Chinese crepes.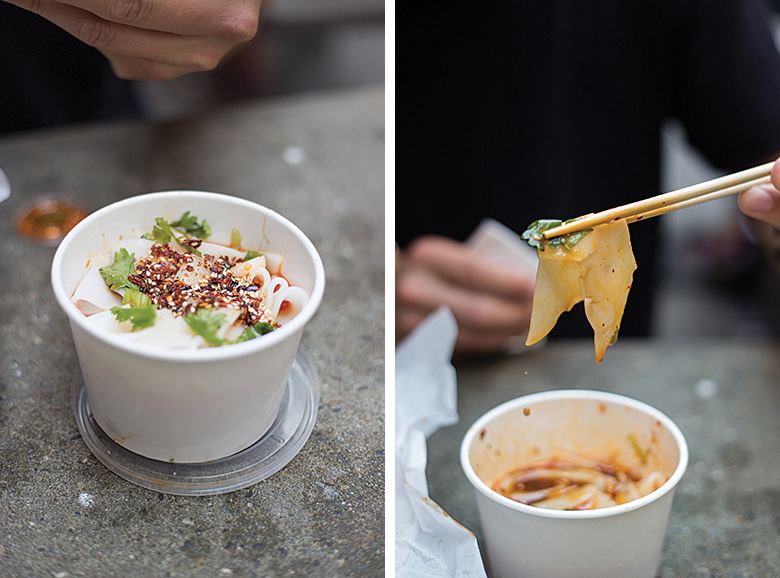 For the summer they serve a Cold Rice Noodle special, which is slightly similar to the one served at Xi'an Noodles (Shaanxi and Szechuan provinces do border each other) but with more spice and a slightly thicker sauce. You really get a vinegar kick when you take a bite and there's sesame and ginger added in too. Don't bother getting a small because you will want more, order the large!
Country Dough, Pike Place Market
1916 Pike Pl Ste 14, Seattle, WA 98101 (map)
Somen 素麺 @ Bon Odori Festival
The Bon Odori Festival is a Japanese summer festival that honors your family who have passed away. It is known for its dancing, which is to welcome spirits back to their graves and to celebrate their lives. Every year Seattle celebrates this in July during Seafair at the Seattle Buddhist Temple, and there's food, music, dancing, families, organizations, and (hopefully) sunshine!
One of the many food-stand favorites at Bon Odori is the Somen, or a cold, wheat noodle soup. It's a straightforward dish, the broth is a concentrated dashi with sake and/or mirin, and you add chilled noodles. You can also add green onions and togarashi (as pictured above), or even shiso or ume on top. Not to be confused with Soba, which is similar but uses buckwheat noodles and can be served hot or cold.
Another type of Japanese cold noodle is Hiyashi Chuka, which is noodles in a cold, sesame sauce, and topped with sliced veggies and meats (I've never found a restaurant in Seattle with this dish, but you can buy the sauce mixes at Uwajimaya if you're interested. It's a favorite of mine to cook at home!).
Bon Odori, annual event in July
Seattle Buddhist Church, 1427 S. Main, Seattle, WA 98144 (map)
Mul Naengmyun 물 냉면 @ Seoul Garden
A common theme amongst many cold noodles is their tendency to be tangy, and Mul Naengmyun is no exception. We went to Seoul Garden, a Korean restaurant in the heart of downtown Bellevue, for our next dish. I'd eaten here many times with friends, but never ordered this particular dish. Mul Naengmyun is a sour, cold soup with slippery buckwheat noodles and an assortment of toppings: an egg, pickled daikon, cucumber, and sliced beef. The noodles are chewy and smooth, and require scissors (provided by the hostess) to really cut through them to an easily-edible length.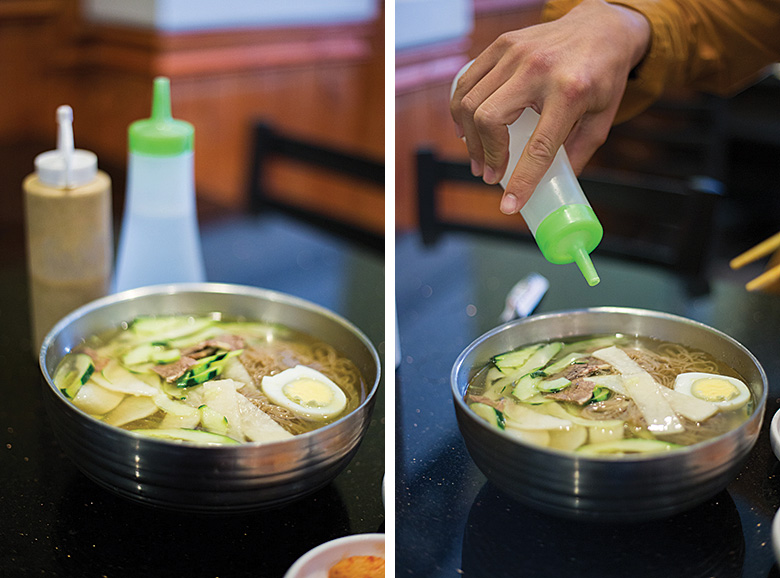 Once you get your soup you can adjust the broth by adding more hot mustard or vinegar. I also had a great mul naengmyun at Hometown Restaurant, at the Lynnwood H-Mart food court if you're ever up north.
Seoul Garden, Downtown Bellevue
304 105th Ave NE, Bellevue, WA 98004 (map)
Pancit Malamig @ the Lahi Pop-Up
My personal biggest surprise of this list was from the Philippines. I was racking my brain trying to think of what cold noodles were served from the country, not that I'm an expert, and where would I even find in the city with all of the notable Filipino restaurants in Seattle having closed in the last several months (RIP Inay's, Kusina Filipina, and Isla Manila!). Luckily, I heard about the Lahi Pop-Up at Cafe Red's Grand Opening event and we made sure to stop by!
The chef behind it all is Irbille Donia, who restarted his Lahi pop-up restaurant after a two-year hiatus. The idea behind the food is to start with recipes from the heart, that his lola would make, and add modern American/Spanish/Northwest technique. This particular dish was a fusion of old and new, the pancit made with spinach and the shrimp confited. It looked nothing like anything I'd eaten but when I took the first bite I instantly knew it was Filipino, and that it was home!
Lahi, pop-up restaurant
Next event on August 28th at the Stone House Cafe in Rainier Beach (more info)
---
I hope that these options help you start your own cold noodle experience around Seattle, or at home! We'll be posting a quick somen recipe soon to help you on your way in the kitchen.
If we've missed your favorite, please let us know which places we should check out in the comments! Cold noodles.