After spending a few days in London eating, it might be time to stop picking on the Brits. Before I ever came to London I'd keep hearing that the food was terrible. Bland, tasteless, and overpriced. Even Miko, who lived there for a while, refused to eat any of the Asian food (except South Asian, which she claimed was "the best") because it was so bad. But the past few years there's been a new food appreciation and much more creative culinary spots to check out.
And after everything I experienced at CôBa I can safely say that delicious food has definitely landed in London!
Located off the touristy path of King's Cross, across from a hole-in-the-wall fry joint, and down a few bus stops lies CôBa. Our amazing hosts, Luke and Jasper, had talked up this place over our conversations about a quick visit to London. It was described as "the best Vietnamese food in London, especially the lamb. Vietnamese flavors with Australian bar-b-cue techniques." The idea was something that I had not come across before but what a wonderful combination! Charred, rich meats served with crunchy veggies, dipping sauces and acidic pickles immediately caught my attention; the delivery of all these elements is something that I believe Southeast Asian cuisine has mastered. The interplay of these variables is the biggest theme I have found so amazing about Southeast Asian foods, also making them so exciting. I've eaten this type of food my whole life with my friends and their families, and have been learning to cook it more and more, but getting this dining experience from a true master of the cuisine was such a great experience.
Environment
The non-descript outer building made for a great impression once inside. Large windows, and wonderful light fixtures helped to set the atmosphere of a cafe. We sat in the middle of the dining room in a large table, enough for 8 and were the closest to the bar. There were a few cozy booths, a large window corner table and a low bar against the street facing window. Lots of wood, brassy light fixtures helped to warm up the space especially on those cold London nights.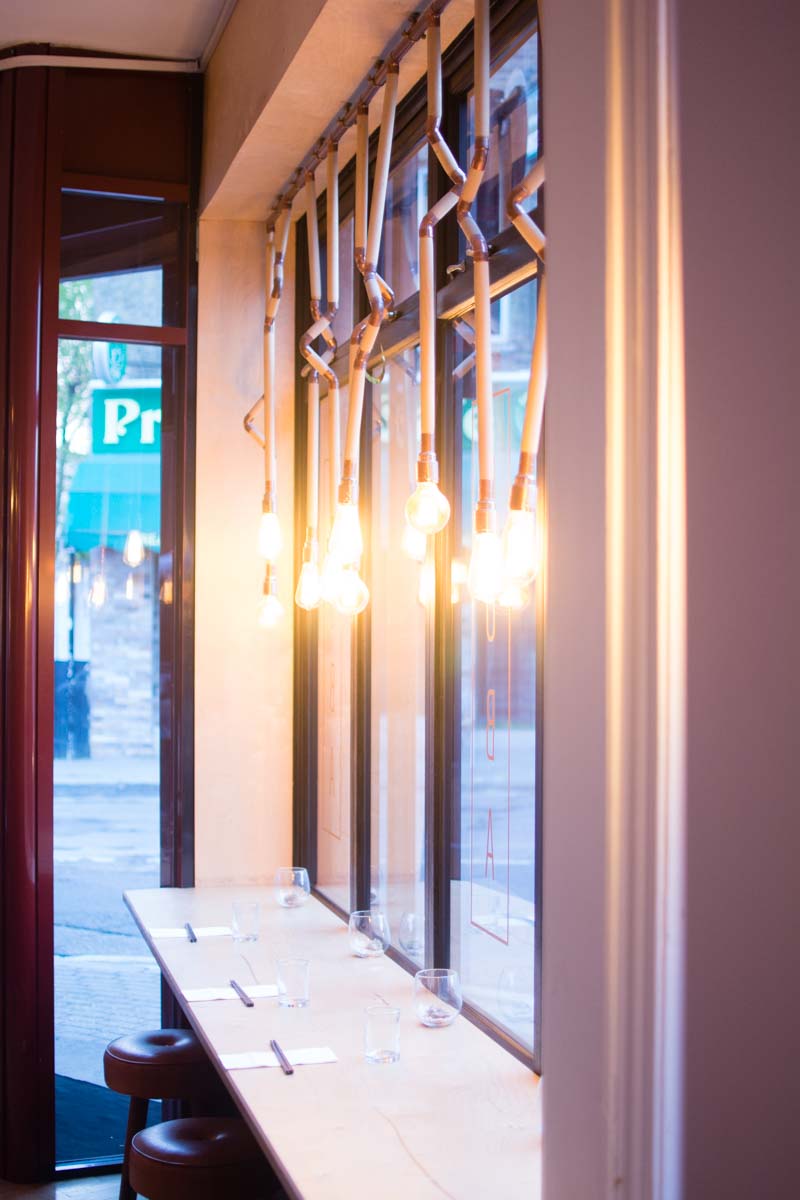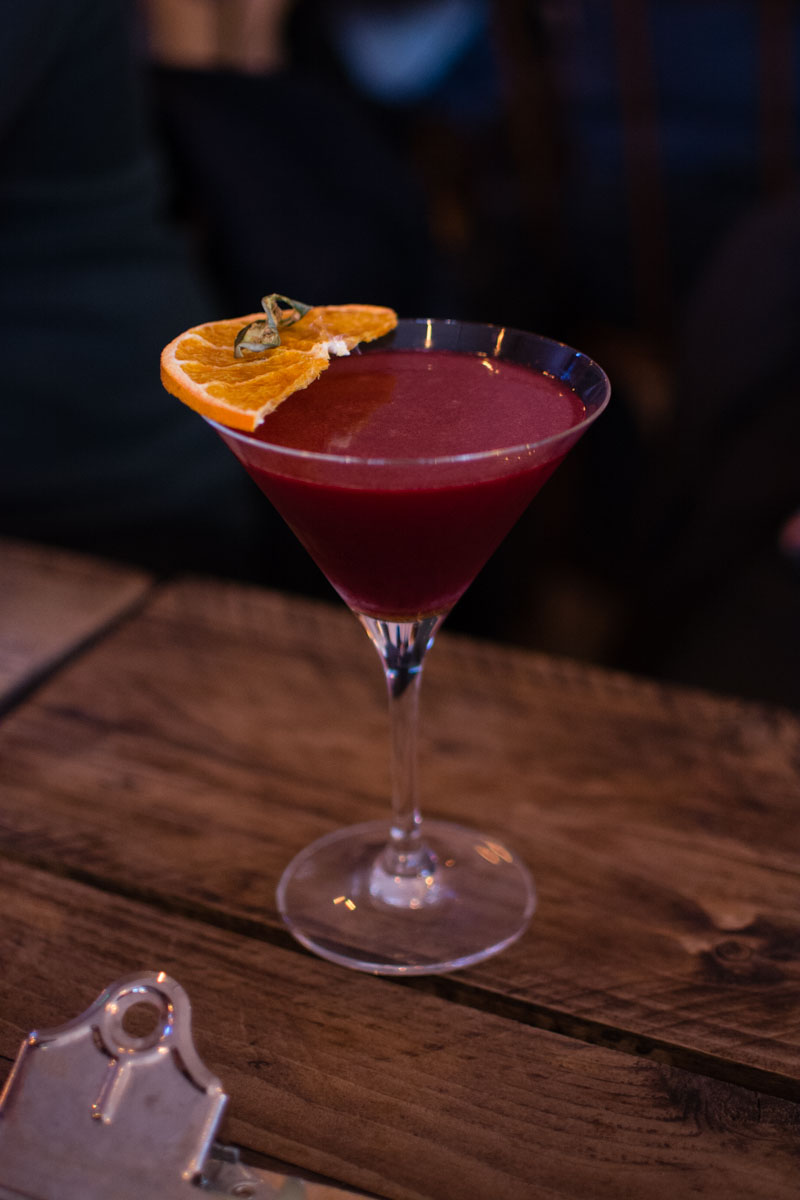 Drinks
One of the first things we had been told about this place was that the drink menu received an equal amount of attention as the food. We started our visit with a cocktail (as any wonderful meal should), Miko opted for the Mamarita which was a wonderful blend of jalapeno, paprika tequila, agave syrup, blood orange, lime (she likes spicy drinks). I opted for the Thyme is Money Whisky Sour built with whisky, apricot jam, thyme, lemon bitters, egg. It was a cool and subtle drink that made me feel like I was drinking outside in the sun.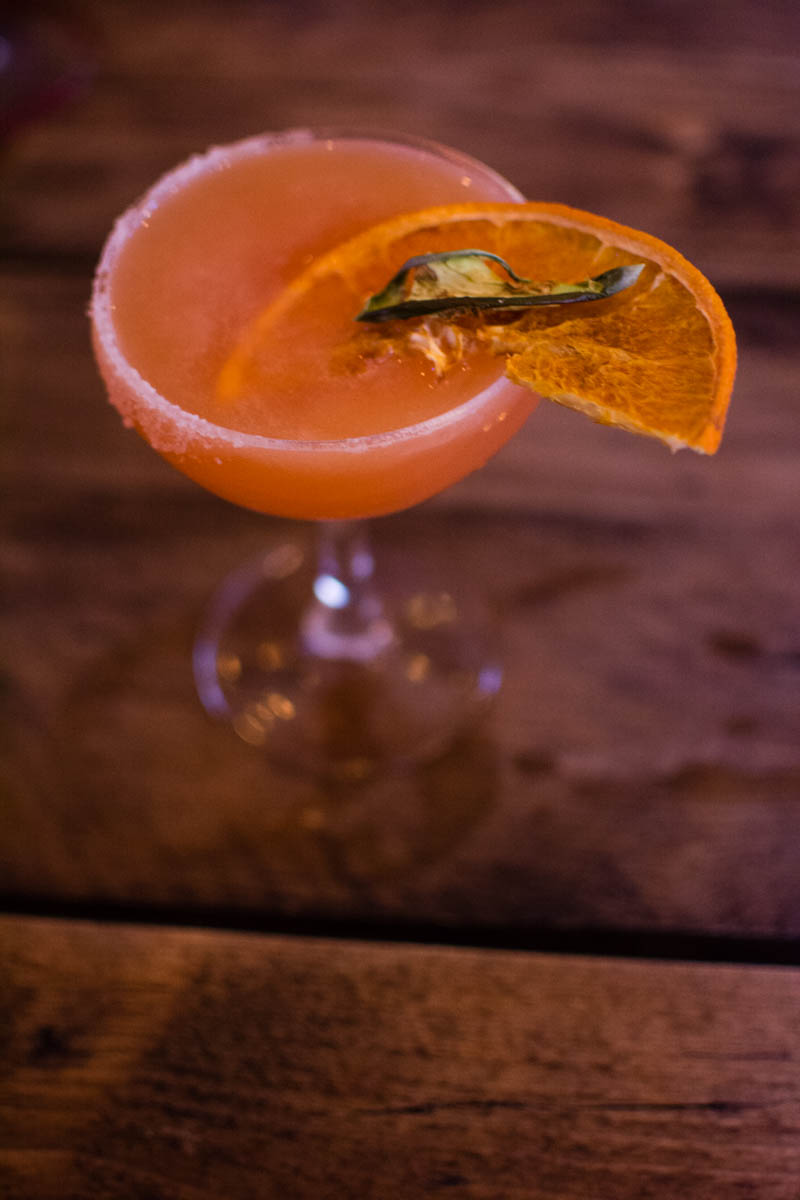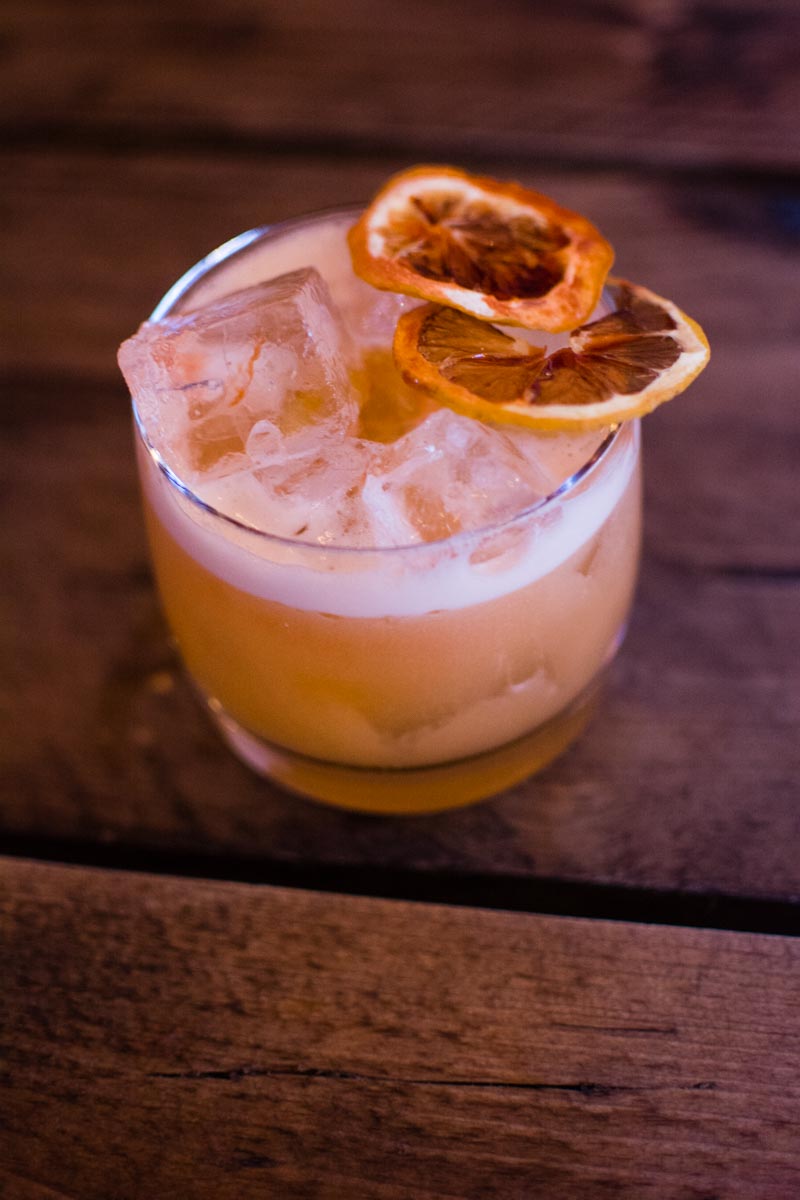 The Delicious, Delicious Food
We started with the appetizers and all were delicious with one major standout—the BBQ Lamb Cutlets!!! This was the best lamb I've ever eaten. Bones on and all, you just grab and bite. When you come here, eat these. I will pay for your dish if you are not satisfied; they are so awesome. The papaya salad was super tasty, and spicy! The more I ate, the more excited I became for my main course!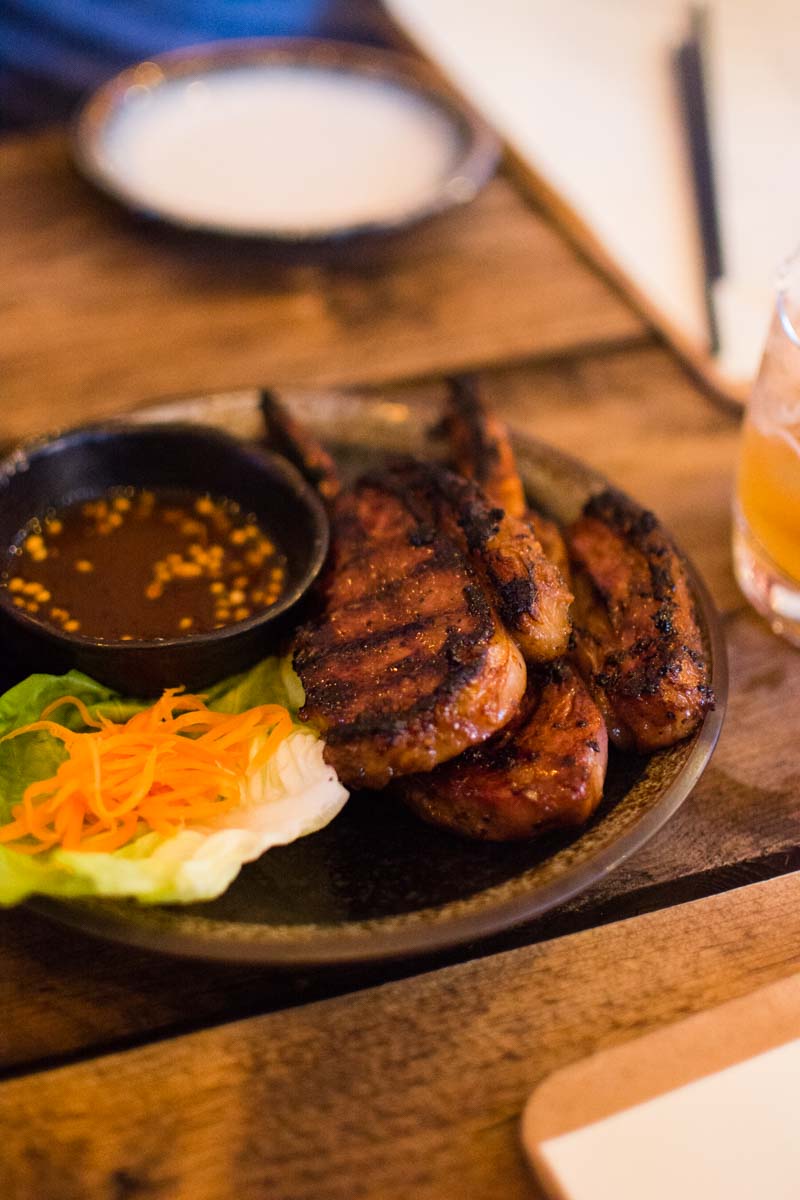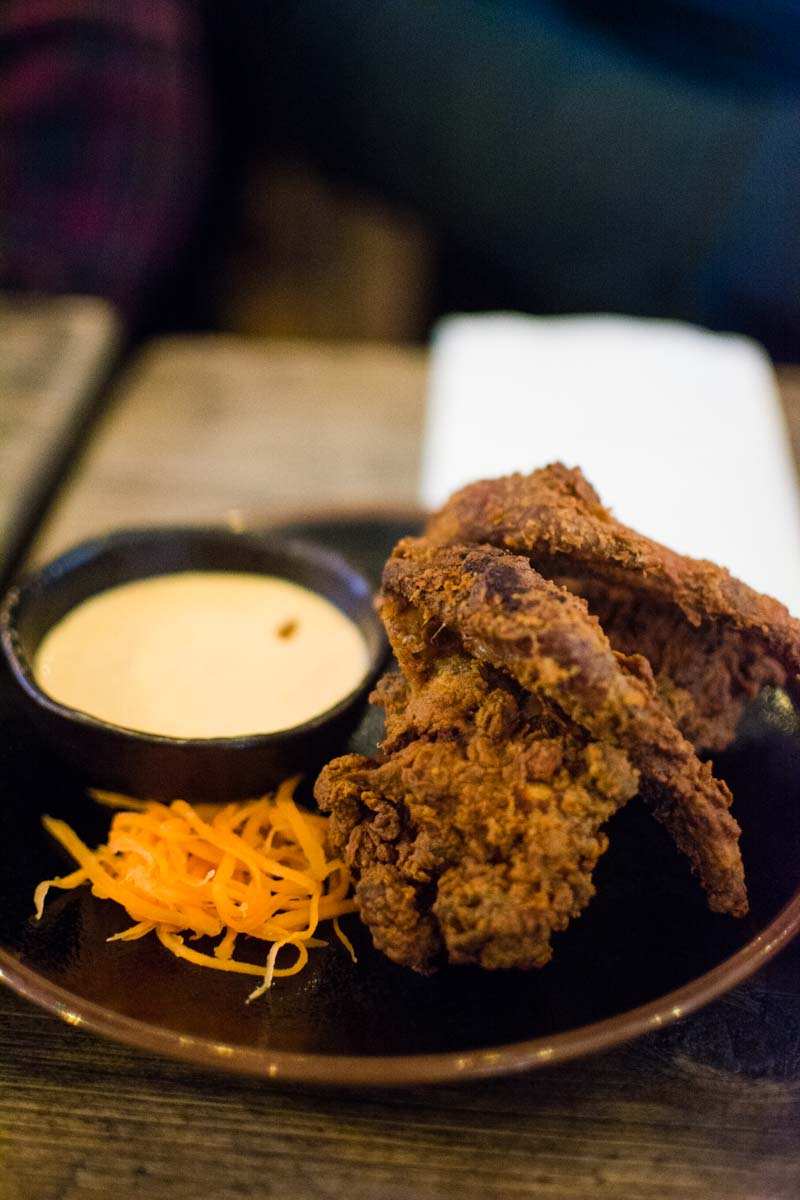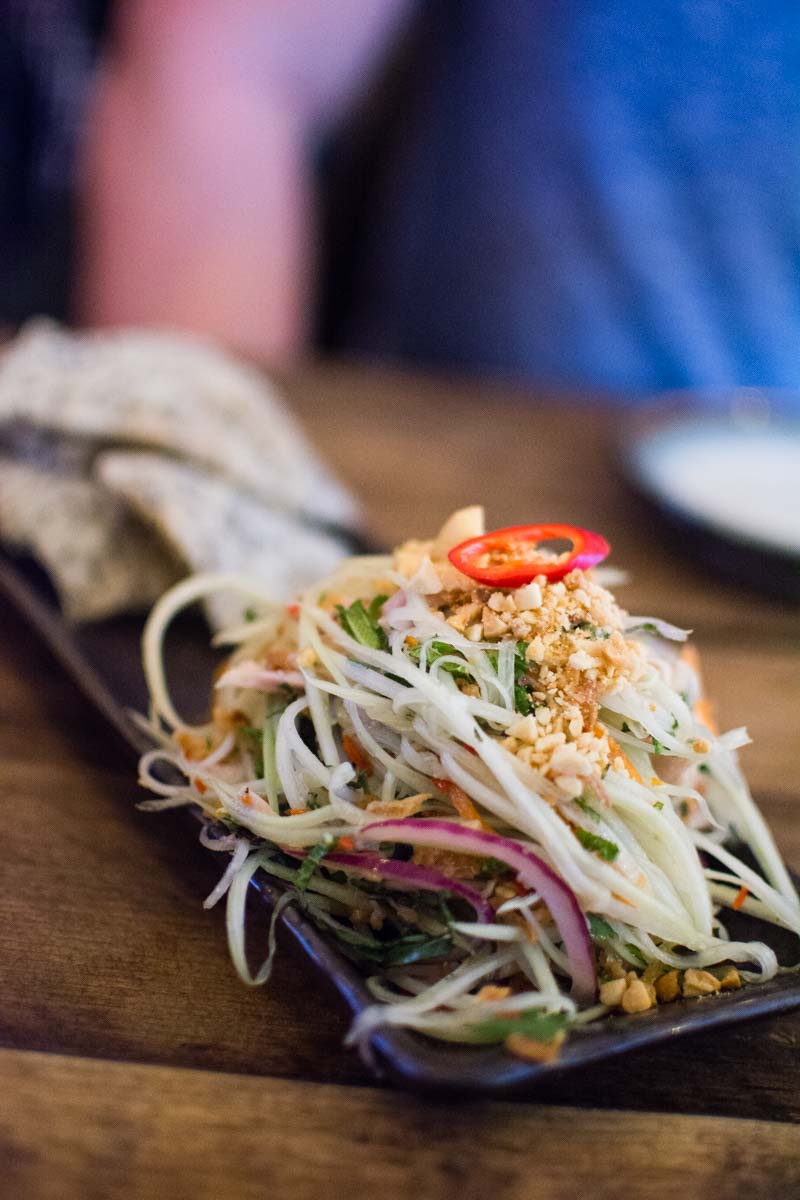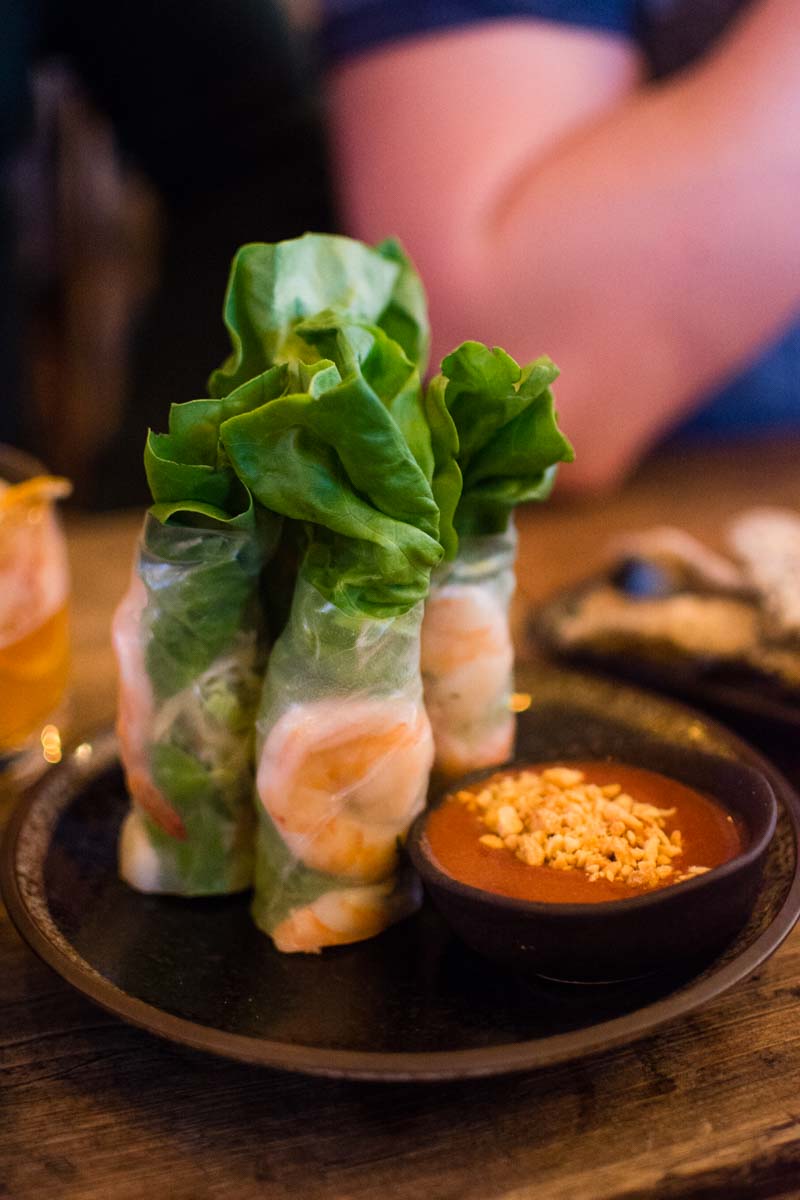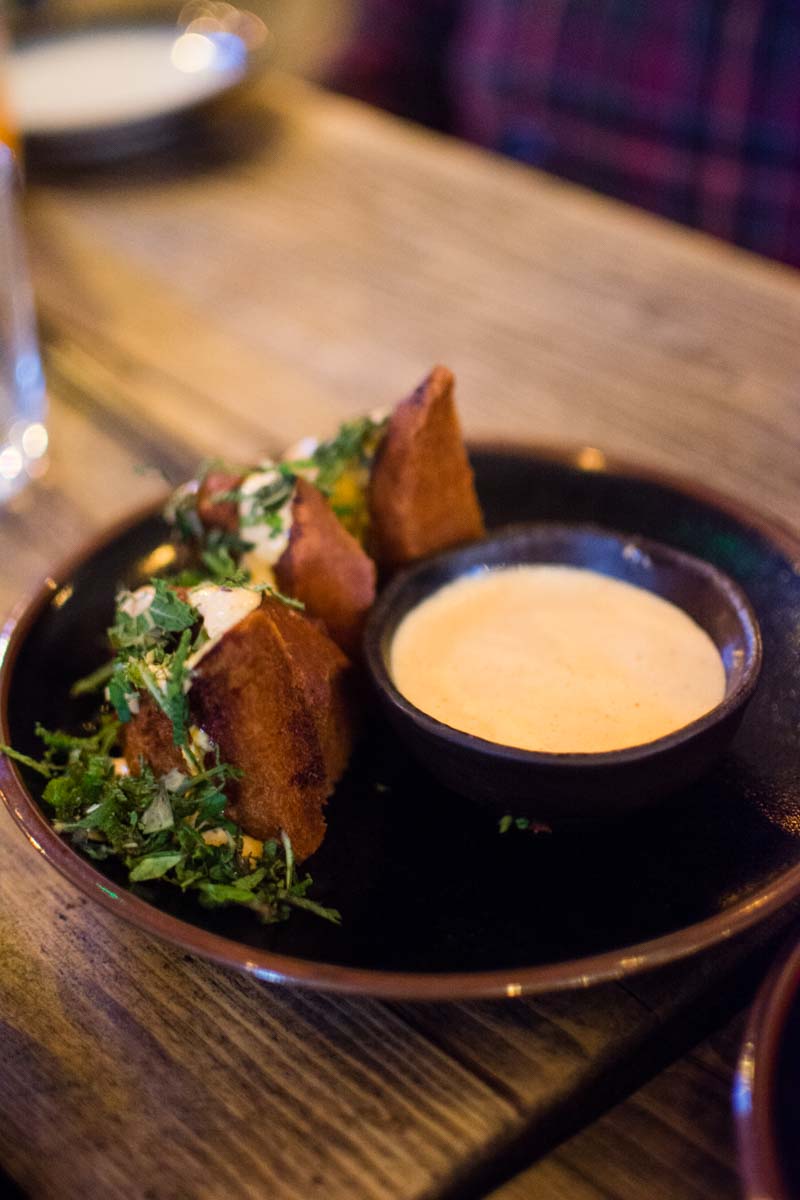 Any foods that come in a bowl are more than welcome in my world, especially when its filled with noodles. When the Lemongrass BBQ Pork Noodle Salad arrived I got to mixing the slightly charred pork, chopped veggies and limes. Along with the pork you could also choose from chicken, beef, prawns and veggies. The Duck Ramen was balanced and lighter than I imagined it would be. It was the first time I had tasted anything with that flavor profile, it was sweet and a hint of licorice from the star anise. We also tried a bite of the veggie noodle bowl that featured a perfectly charred set of Okra and assorted peppers.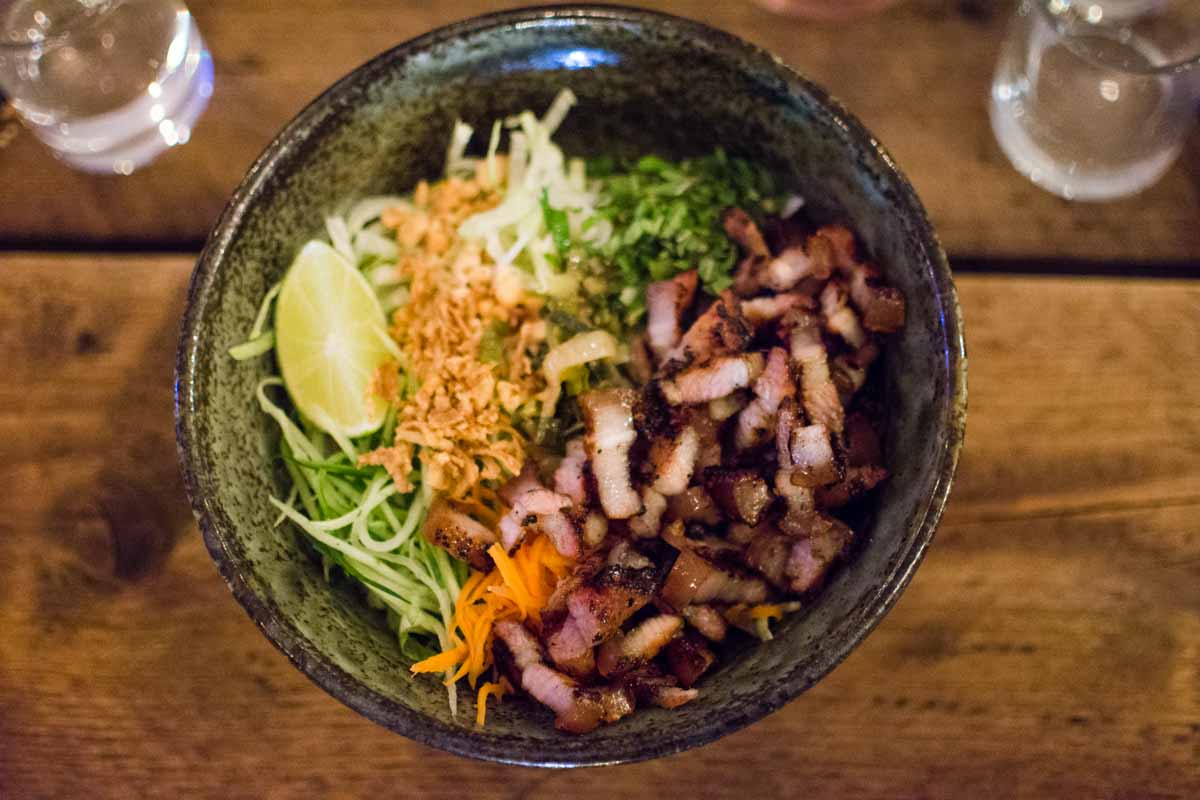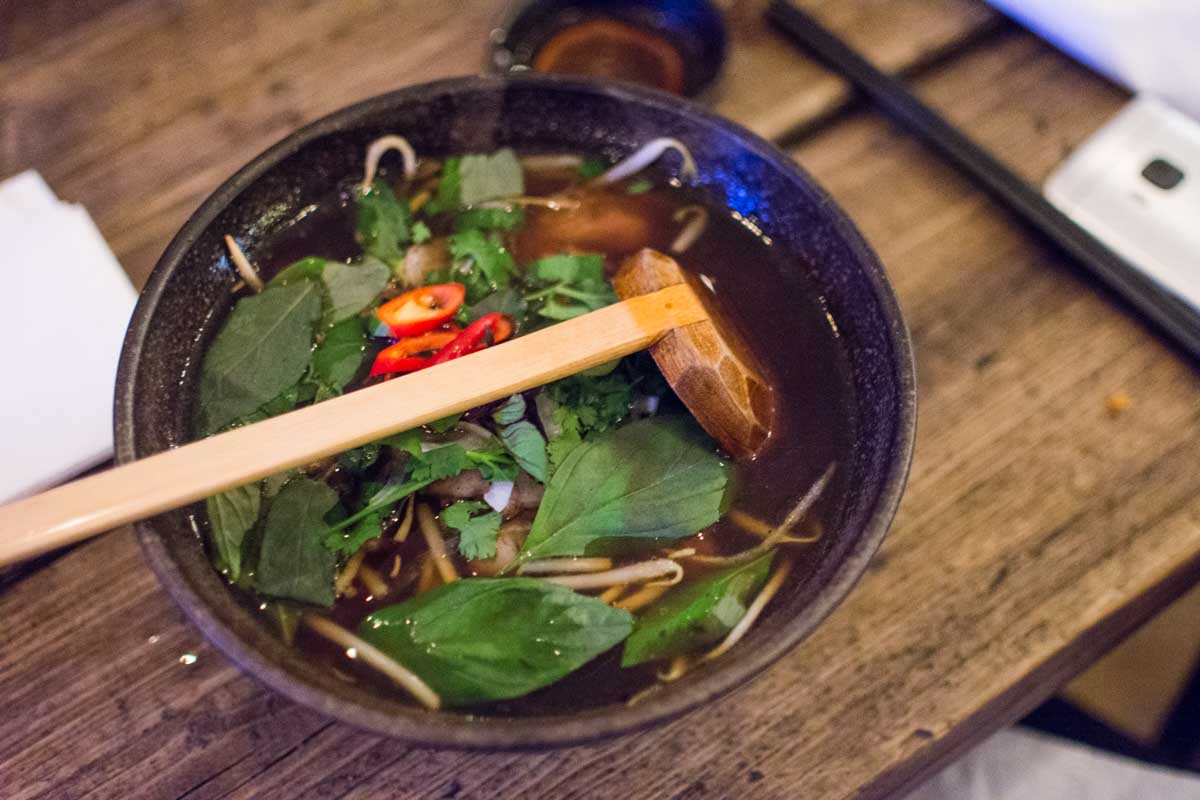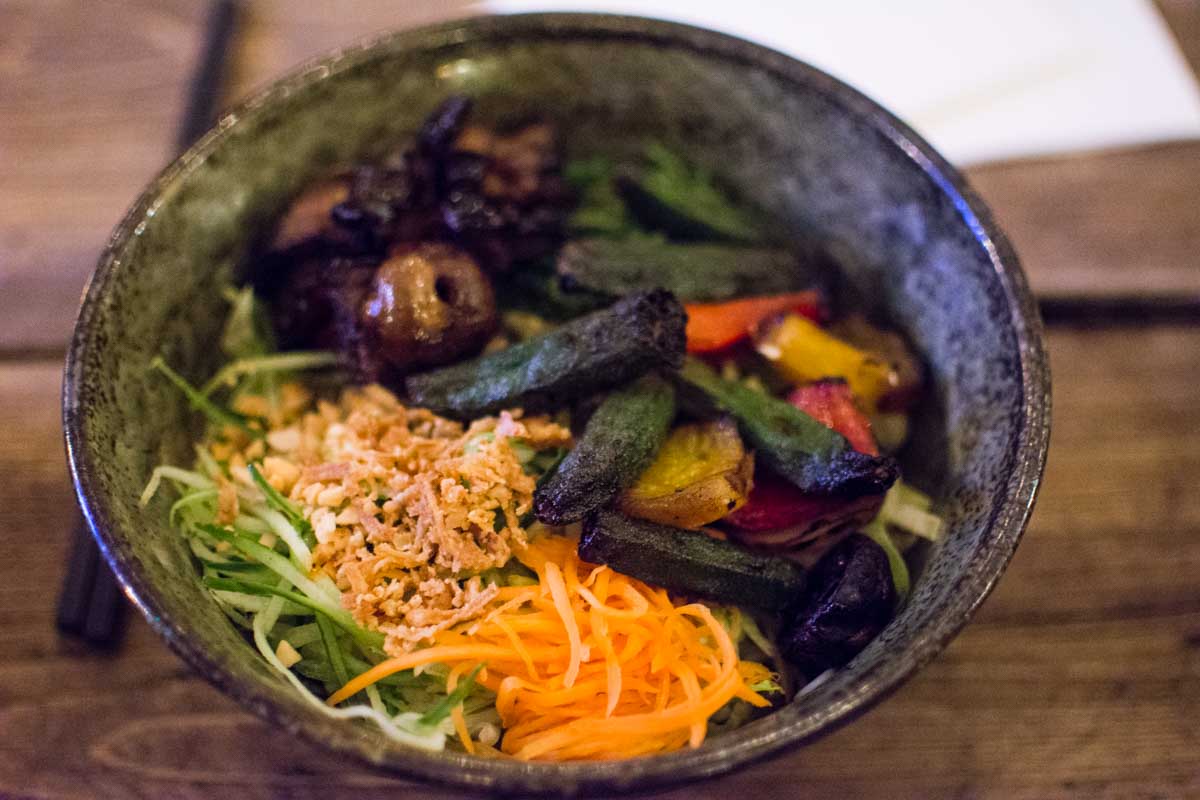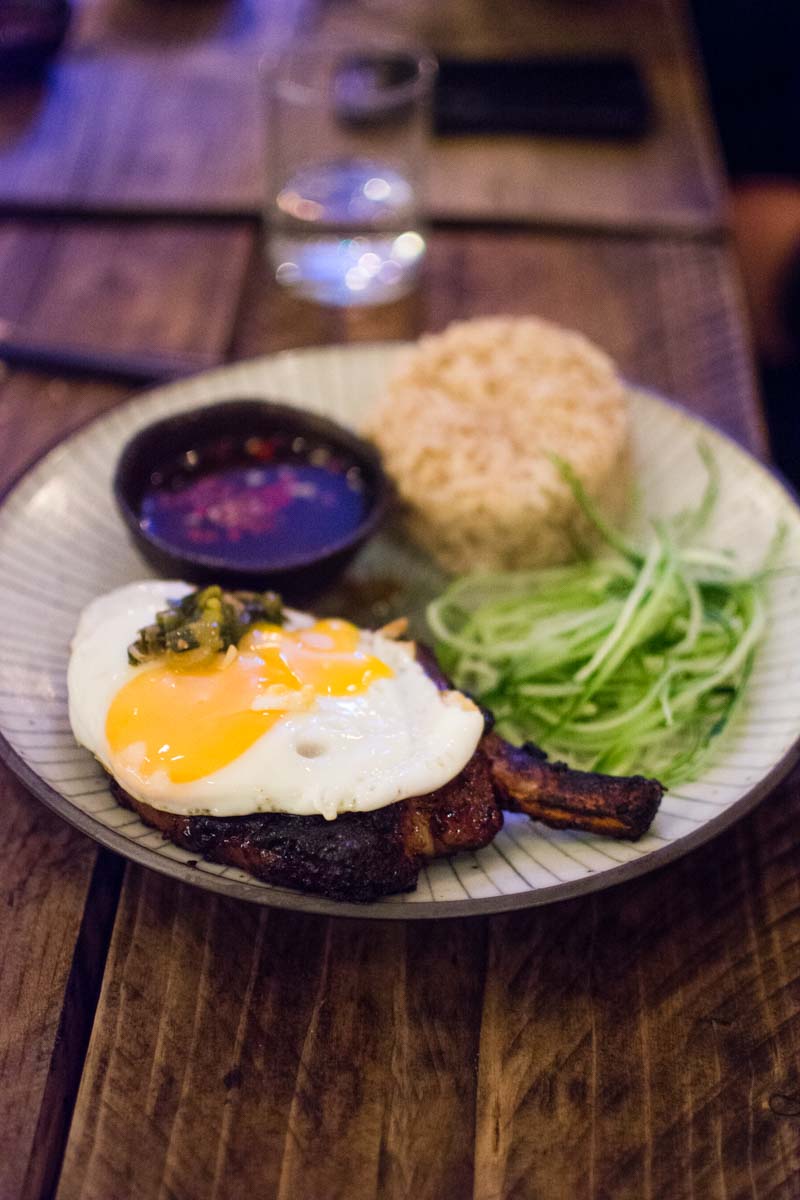 The empty dishes from our main course left the table and wine glasses were filled up and dessert was ordered for us. Two servings of a Passionfruit Panna Cotta, that came in a small glass jar. The top of the Italian dessert was covered in a tart sauce of the passion fruit and a few seeds for texture. It was a wonderful way to end the meal not to mention a 'cheeky' glass of sparkling wine for good measure.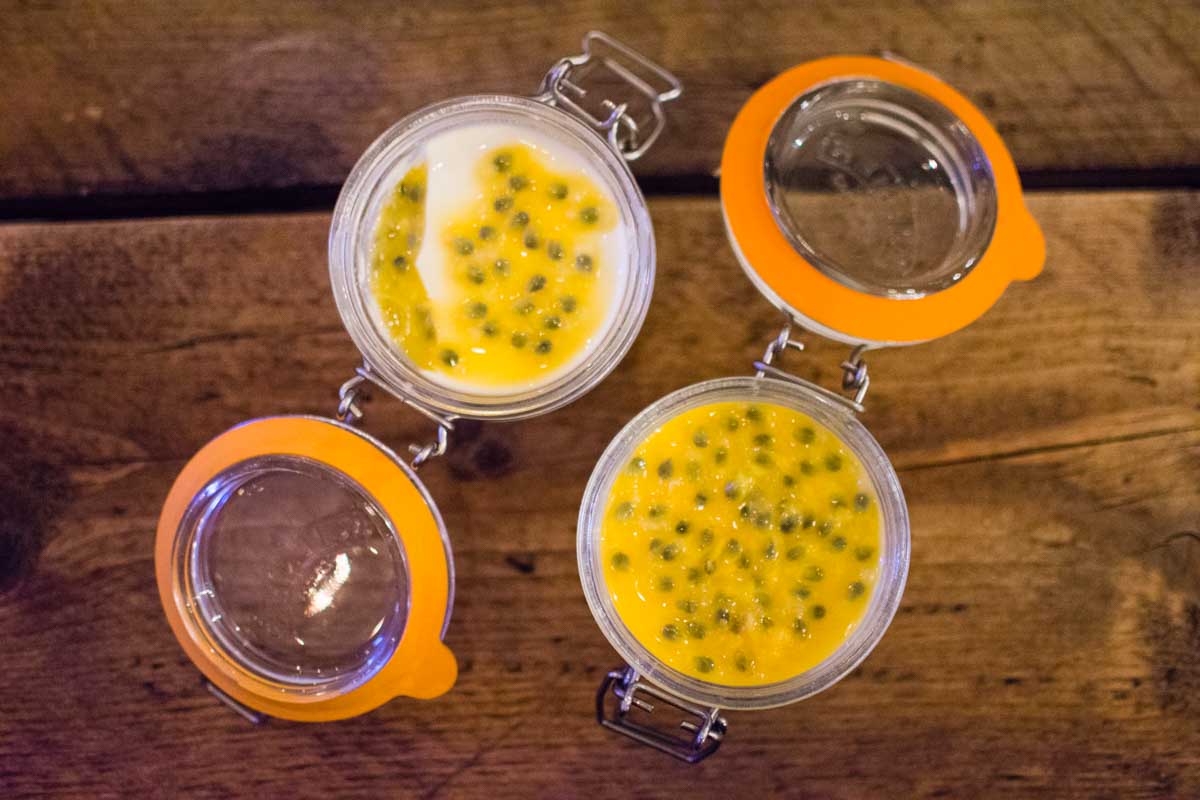 The Man Behind it All
Let me introduce the man behind Cô Ba's success: Damon Bui is the leader behind the popular Vietnamese 'Table for 10' supper club that had been his hard work for years before CôBa became what it is today. CôBa (meaning 'Auntie Number Three') is working to shape what Vietnamese food can be, honoring tradition by using particular flavor profiles but adding a twist that reflects the reality of the chef. Damon grew up in Australia and his story of food culture is much like other children of immigrants: food at home was from his parents homeland and food outside of the home was the country's influence. He created a supper club and started cooking there, thus beginning his work as a chef.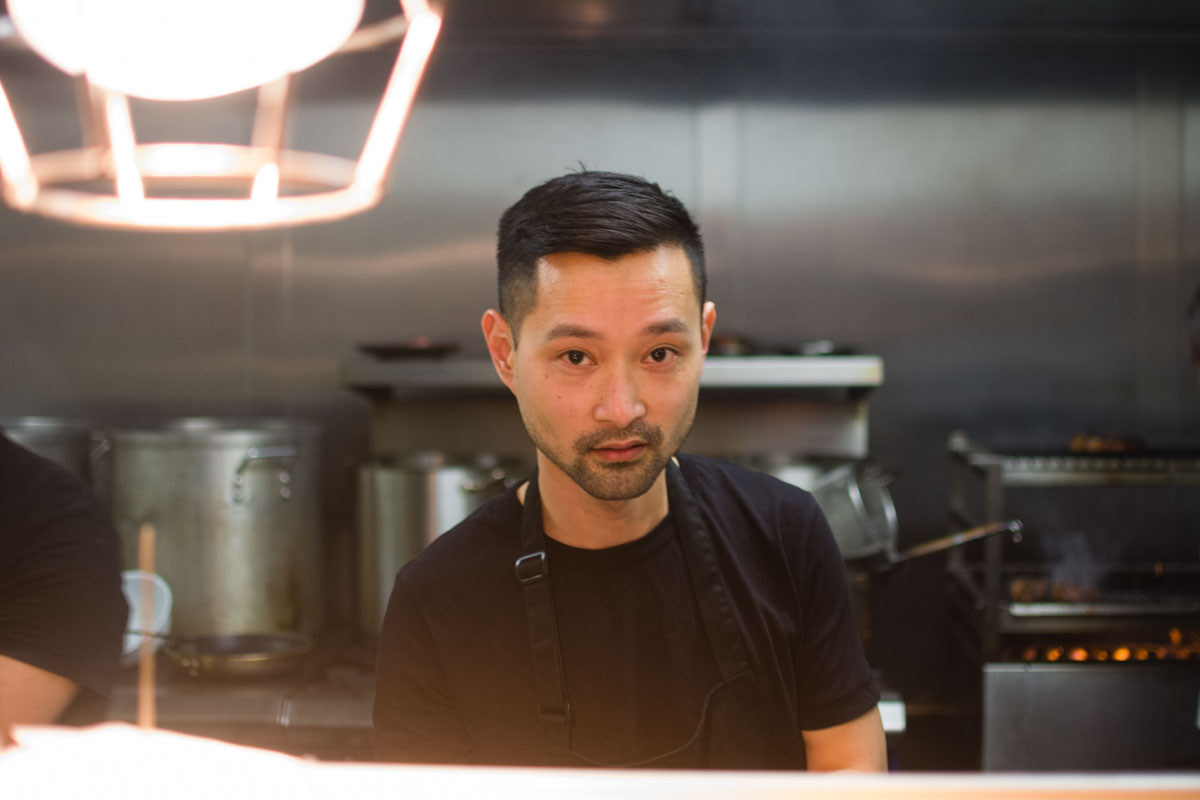 We were lucky enough to be introduced to him through our mutual friends and got to ask him a few questions about CôBa and life!
Who was the person who taught you to cook?
Mum. As like most Asian kids, I helped out in the kitchen from a young age but it was when I decided to come to London that I made my mum teach me how to cook properly. Nothing like knowing you won't have mum's cooking to motivate you! 🙂
Your Favorite ingredient right now?
As a Vietnamese, fish sauce – it is life. All. The. Time. I even use it in my spag bol for extra umami. [Editor's Note: we feel this. In our hearts. <3]
What should people know about CôBa?
When I am retired, there will be a CôBa somewhere less frenetic and I'll be doing the same thing but at a slower pace. It is a labour of love.
What do you cook for yourself?
Roasts. When I have the time, I am obsessed with roasts especially pork or lamb whether in the oven or more experimentally in the smoker.
When do you know that you have a dish that is ready to be served at CôBa?
There is an aha moment where I'm like 'yeah I'd pay for this and come back next week to have the same thing again'. Then I test it on MJ and friends.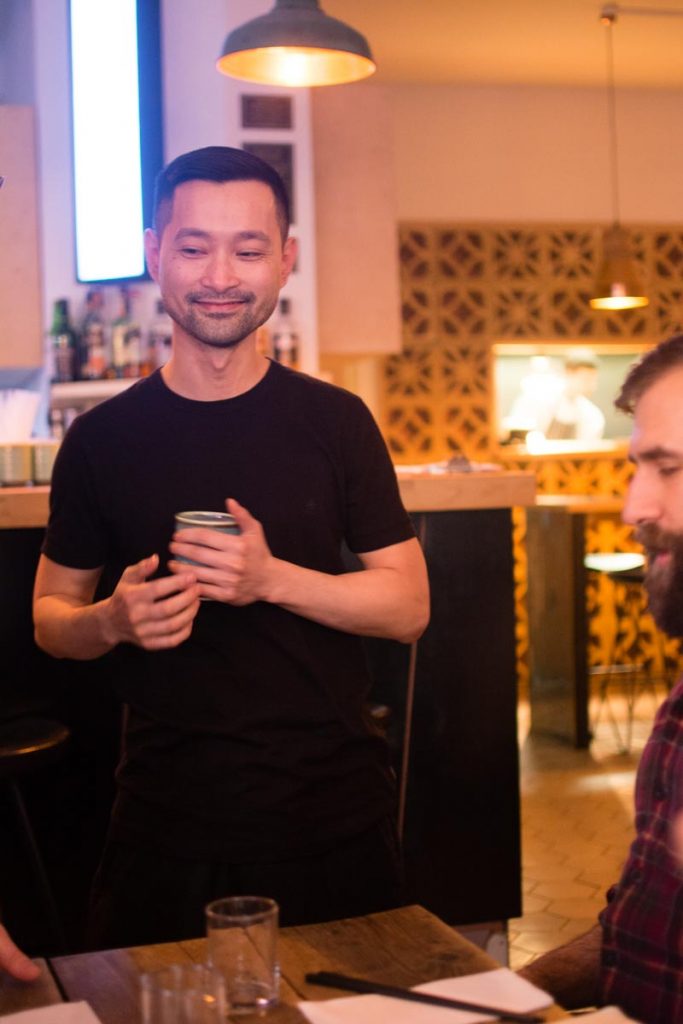 ---
This was hands-down some of the best Vietnamese food I've had anywhere, so do make sure and try it when you're in London. Thank you to Damon for the hospitality and to Luke and Jasper for introducing us to one of our new favorite restaurants!
---
CôBa
244 York Way, London N7 9AG, UK
cobarestaurant.co.uk